On Wednesday, May 10, St. Mary's Church hosted the Nutley Clergy Association's Relay for Life Prayer Service to honor all those touched by cancer. Fr Rich was the celebrant and spoke about finding comfort in God. The music led by Bruce Mauro, our Music Director continued this theme as we listened to a beautiful meditation song, Matt Maher's Lord, I Need You. I invite you to take a moment to play the song (below) because it is a powerful and prayerful way to invite Jesus, Our Savior into our moments of suffering and weakness.
Relay for Life helps communities to remember loved ones lost, honor survivors of all cancers, and raise money to help the American Cancer Society make a global impact on cancer.

On May 19-20, Nutley held its 11th Relay for Life. 70 teams participated in this annual event, which this year raised over $73,000!

You can find out more information by checking out their page Nutley Relay for Life
It is especially fitting that it takes place in May because May 1 is the feast day of St. Peregrine, who is the patron saint for persons suffering from cancer.
Most of us know someone who has been affected by cancer, as we stand together as a parish family let us offer our prayers to St. Peregrine that he may intercede for us to God for healing, courage and hope.
Prayer to St. Peregrine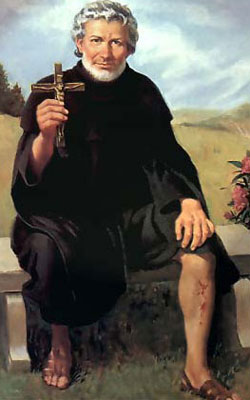 St. Peregrine, whom Holy Mother Church has declared Patron of those suffering from Cancer, I confidently turn to you for help in my present sickness. I beg your kind intercession. Ask God to relieve me of this sickness, if it be his Holy Will. Plead with the Blessed Virgin Mary, the Mother of Sorrows, whom you loved so tenderly and in union with whom you have suffered the pains of Cancer, that she may help me with her powerful prayers and loving consolation.
But if it should be God's Holy Will that I bear this sickness, obtain for me courage and strength to accept these trails from the loving hand of God with patience and resignation, because he knows what is best for the salvation of my soul. St. Peregrine, be my friend and patron. Help me to imitate you in accepting suffering, and to unite myself with Jesus Crucified and the Mother of Sorrows, as you did. I offer my pains to God with all the love of my heart, for his glory and the salvation of souls, especially my own. Amen.